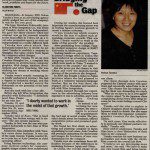 'I dearly wanted to work in the midst of that growth.' —NOBUE TANAKA
SHANGHAI-In January 2005, Nobue Tanaka's boss at an advertising agency subtly nudged her out of the company. It was for her own good.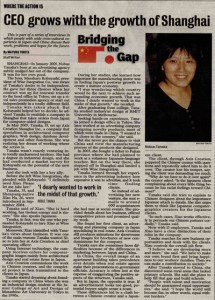 The boss, Masaharu Kobayashi, president of Wise Integration Co., was aware of Tanaka's desire to be independent. He gave her three choices when her contract was up for renewal: transfer to the head office in Tokyo, set up a rival sales promotion agency or start out independently in a totally different field.
Tanaka was taken aback. But Kobayashi helped her to decide; he advised Tanaka to establish a company in Shanghai that takes orders from Japan for computer-aided designs.
In May 2005, Tanaka, 33, set up Axis Creation Shanghai Inc., a company that specializes in architectural computer graphics, Web design, database development and other functions. She was realizing her dream of working where the action is.
Tanaka wasn't exactly venturing into totally unchartered territory. She had a degree in industrial design, and she had conducted a market survey for Kobayashi on the potential of the new business.
And she took with her a key ally.
Before she left Wise Integration, she pleaded with Kobayashi:"I definitely need Xiao. Please let me take her."
Tanaka, 33, and Shenyang-native Xiao Na, 26, were introduced in September 2004.
Tanaka said of Xiao, "She is hard working, has tireless energy and is sincere." She also speaks Japanese.
Tanaka, in fact, was the one who persuaded Kobayashi to hire Xiao at Wise Integration.
Moreover, Xiao identified with Tanaka's views about business. It was one of the main reasons Tanaka wanted Xiao to join her at Axis Creation as chief operating officer.
Using Internet technology, the company receives orders for computer-graphic images mainly from architectural design and real estate firms in Japan.
Axis Creation commissions the work to Chinese creators, and the completed project is then transmitted to the clients in Japan.
Tanaka started dreaming about founding a company in China when she was an industrial design student at the Junior College of Art and Design of Musashino Art University in Tokyo in the 1990s.
During her studies, she learned how important the manufacturing sector was in fueling Japan's postwar growth to create a mature economy.
"I was wondering which country would be the next to achieve such astounding economic growth. That was China. I dearly wanted to work in the midst of that growth," she recalled.
After graduating from college, Tanaka studied industrial design at RMIT University in Melbourne.
Seeking hands-on experience, Tanaka joined a design office in Tokyo. She later worked at an advertising company designing novelty products, most of which were mad in China. "I wanted to be closer to the country," she said.
But she never got the chance to visit China and view the manufacturing process of the products she designed.
In 2003, she bought a ticket to Fujian province where she had planned to work as a volunteer Japanese-language teacher. But on the way there, she stopped off in Shanghai and landed a job with Wise Integration.
Tanaka learned through her experience in the advertising industry how expensive it was to advertise, and it took time finding clients.
So instead of advertising her new venture, she sent e-mails to around 600 acquaintances she had met at social events. She provided details about her business, offered competitive prices and promised quality work.
She found her first client, an advertising and planning company in Japan specializing in real estate. Axis Creation still produces animations for showrooms and images for brochures of new condominiums for the company.
Tanaka says she sometimes faces difficulties because of the differences in marketing between Japan and China.
In China, the overall image of an apartment building takes precedence over details when real estate agents make their presentations to government officials. Accuracy in often lost at the expense of exaggerating the positive aspects of the structure, Tanaka said.
But in Japan, the opposite is true. If an advertisement looks too good, potential buyers might sense a scam.
These differences led to a clash between a Chinese creator and a Japanese client.
The client, through Axis Creation, peppered the Chinese creator with questions and repeatedly asked him to do it over. The creator lost his temper, saying the client was demanding too much.
"Why do we have to do it over again?" the creator asked. "Is the Japanese client complaining about every little thing because he has racist feelings toward Chinese?"
Tanaka said she tries to explain to Chinese designers about the importance Japanese attach to details. She also urges them to think like Japanese computer-graphics creators for the Japanese clients.
"In such cases, Xiao works effectively to persuade our Chinese partners cordially." Tanaka said.
Now with 15 employees, Tanaka and Xiao have a clear distinction of their roles in the company.
Tanaka searches for new business opportunities and deals with the clients. Xiao controls the overall job flow.
"I believe we are developing more and more," she said. "We have to make our own bread first and bring happiness to our workers' families. Then we can make a contribution to society."
After Tanaka moved to China, she discovered some rural areas that lacked primary schools. She said she plans to help fill that gap and build schools.
"People with talent and motivation should be guaranteed equal opportunities," she said. "I hope the world will become flat, in order words, equal without borders."